Neal has been a first-call studio session musician since the mid-80s. His feel, sound, and ability to play many different styles of music has led to recording and touring with a hugely diverse group of artists, including Van Morrison, James Morrison, Paul McCartney, Ray Charles, Annie Lennox, Joan Armatrading, Beverley Craven, Barefoot Servants (with Leland Sklar), Gang of Four, Ultravox, Mike and the Mechanics, Everything But the Girl, Gil Evans, Michel Legrand, Elmer Bernstein, TV shows American Idol, Friends, X-Factor, movies Star Wars - Return of the Jedi, Looking for Eric, Man Down (to be released soon), and London shows "Hair" and the Carole King show, "Beautiful".
RECORDINGS: James Morrison, Van Morrison, Paul Carrack, Annie Lennox, Barefoot Servants, Westlife, Joan Armatrading, Paul McCartney, Gil Evans, Elmer Bernstein and many more.

Nicolas Viccaro (Fra)
Born in 1986 and son of a professional drummer, Nicolas VICCARO starts the drums at the age of 3. Really soon, He starts learning serisously at the National Conservatory of Region of Nice (French Riviera), he obtains the 1st Prize of Conservatory before moving to Paris. That's where Nicolas will meet some of the best musicians, and also begins to make his place on the international scene with prestigious collaborations in Pop Music but also on the Jazz scene passing through the African music, Latin Jazz... Nicolas Plays ZILDJIAN cymbals & Sticks, YAMAHA Drums & REMO Drumheads and did the cover of BATTEUR MAGAZINE a few weeks ago. To name a few, he has already played with
Dave Stewart (EURYTHMICS)
Hans Zimmer
Biréli Lagrene
Frank McComb
Véronique Sanson
Mike Mainieri
Bill Evans
Hadrien Feraud
Etienne Mbappé
Hyleen
Candy Dulfer
KT Tunstal

Steve Davis (NI)
"Assured explosive drumming." Irish Times. "He is the most musical of drummers, ever empathic and sensitive." Jazzwise.
DR STEVE 'DAKIZ' DAVIS is a professional percussionist and composer and has been active in such fields in the UK and Europe. Steve was born in Belfast and is known as much for his jazz drumming as his free improvisational style of playing. He started having a strange interest in hitting things to get a sound out of them around the age of 12 and he has continued this obsession ever since.
STUDIES He gained a BA(hons) in contemporary music from Leeds University in 2000, and a Distinction, in a Post-Graduate Diploma in Jazz from Trinity school of Music London 2003. After this Steve studied at the Skidmore Jazz Institute in New York, on a Arts Council funded Scholarship.
TEACHERS Keith Copeland, Dave Hassell, Martin France,Paul Clarvis, Ed Shaugnessey.
PERFORMING In 2003 he toured with the European Jazz Orchestra, playing 25 dates throughout all the member states; Denmark,Switzerland,Italy,Germany and so on. Living in London for the last 3 years he has been playing drums with the cream of Londons jazz community, players such as EVAN PARKER, DJANGO BATES, JULIAN SEIGAL, DYLAN BATES, ANNIE WHITEHEAD, BEN CASTLE, TOM ARTHURS, MARTIN SPEAK, MARK LOCKHEART, PAUL DUNMALL, JAKIE DANKWORTH, MIKE WALKER, NORMA WINSTON and has also performed with many european and american musicians, CHRIS WEISENDANGER, DOMINIQUE DI PIAZZA, DICK OATS, CURTIS FULLER, ALAN VACHE, BRUNNO TOMMASSO, BRIAN IRVINE, MARC RIBOT, JOE MORRIS, RUFUS RIED, GREG BURKE. He continues to concentrate on these and many other projects with the likes of MATHEW BOURNE, DAVE KANE, PAUL DUNMALL, DJANGO BATES, BRIAN IRVINE, and his own London based band 'HYPNOTOAD' who just finished a tour of Ireland 2004. Most recently working with Irish musicians MICHAEL BUCKLEY and MIKE NEILSEN.
TEACHING Recently Steve has been lecturing at Queens University Belfast, N.Ireland. He is teaching Performance/Composition.  

David Lyttle (NI)
SJP is happy to welcome David Lyttle back to the faculty. He brings much more to the project than his drumming skills. David is also a recording artist, songwriter, composer and record label owner. David will be leading an ensemble and is available for one-to-one sessions during the week for anyone needing advice about career matters in the music business.
"Notably assured technique, greased lightning reflexes and an unfailing sense of swing…a prolific composer too." — Jazzwise
"…sophisticated and sharp…one of the best listening experiences you're likely to have all year." — Rolling Stone
Born Co. Armagh, Northern Ireland, MOBO Award and Urban Music Award-nominated David Lyttle shifts seamlessly between the personas of jazz drummer, recording artist, composer, producer and record label owner. His latest album 'Faces' has commanded international attention since its release last year, with Rolling Stone magazine USA describing it as 'one of the best, robust listening experiences you're likely to have all year'. He has performed in over fifteen countries and collaborated with a range of music icons, including Joe Lovano, Greg Osby, Soweto Kinch, Jean Toussaint and Talib Kweli. Heard on both specialist and mainstream radio in Ireland, the UK and the US, David has been one of the most played artists of the past twelve months on Jazz FM. He was nominated for a MOBO Award for Best Jazz last September an Urban Music Award in October.
With his record label Lyte Records David has released albums by Ari Hoenig, Jason Rebello, Jean Toussaint, Nigel Mooney, Moxie and Andreas Varady, who he discovered in 2010. David completed a PhD in Musicology at Ulster University in 2009 and has also studied at the Banff Centre in Canada and Skidmore Jazz Institute in New York. As a drummer his teachers have included Jeff 'Tain' Watts, Ari Hoenig, Ralph Peterson, Carl Allen and John Riley
David has performed in over fifteen countries and toured with Soweto Kinch, Greg Osby, Terell Stafford and Jonathan Kreisberg. His record label Lyte Records' latest releases include albums by Jason Rebello, Jean Toussaint, Nigel Mooney and Moxie. A doctor of music, David studied at Ulster University, The Banff Centre (Canada) and Skidmore Jazz Institute (New York).  
davidlyttle.com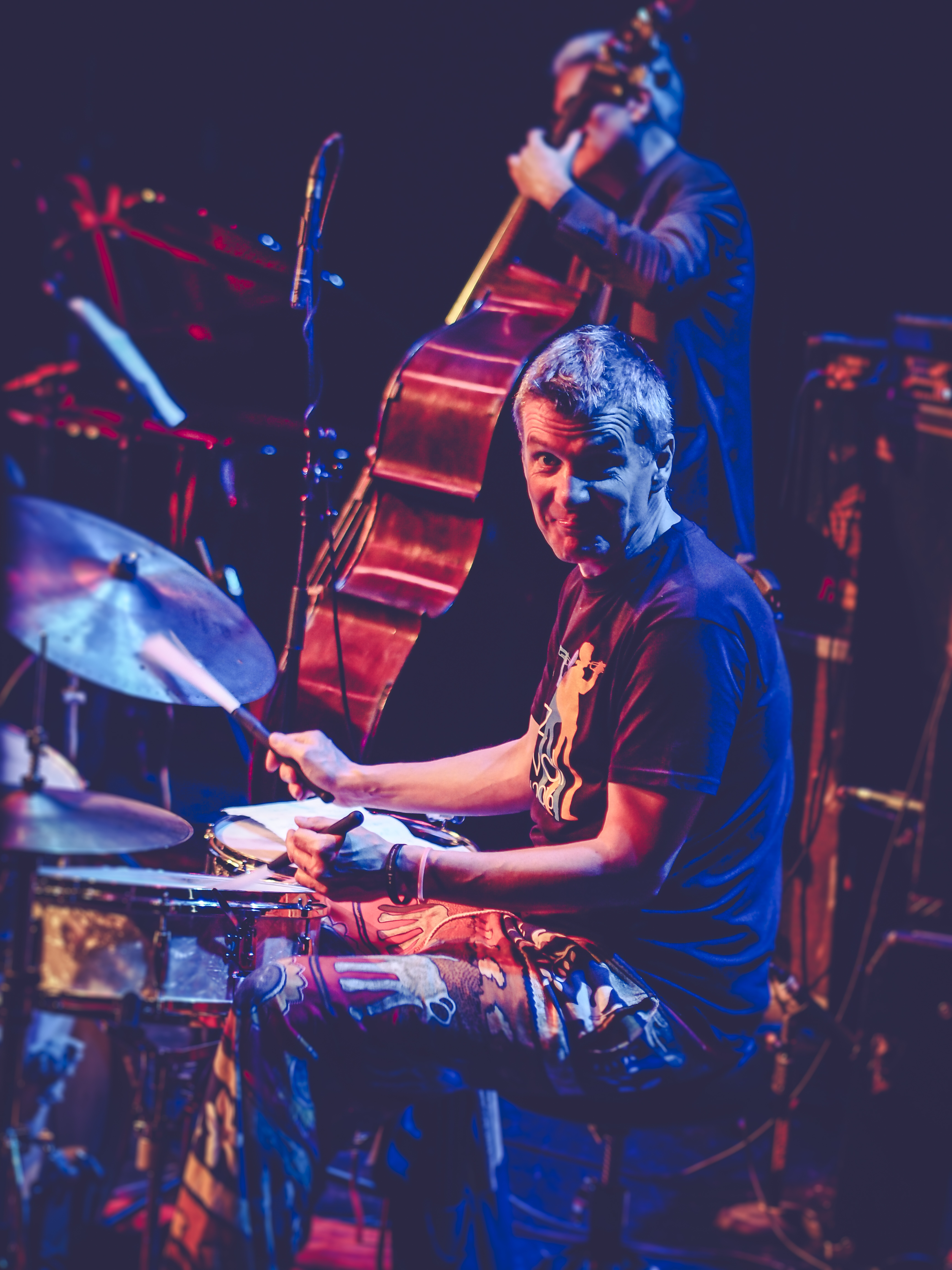 Paul Clarvis (UK)
Paul Clarvis brings his unique style of musicianship to many genres and as one of the UK's most requested session musicians. His playing can be heard on literally hundreds of films. Moreover, the list of artists he has worked with is a veritable 'who's who' in the music world – from Wynton Marsalis, Mick Jagger, Nina Simone, Stevie Wonder, Steve Swallow, Harrison Birtwhistle, Sir John Dankworth to Paul McCartney, John Taylor and Moondog, Gordon Beck, Brian Ferry, Elton John. He has recorded with Marc Ribot; Sam Rivers; Richard Thompson; The Orb, John Adams; Michael Nyman; Loreena McKennitt; Mark Anthony Turnage and Michel Legrand as well as his own band Orquestra Mahatma and Pigfoot.
Movies which feature Paul's playing are Star Wars, all the Harry Potter films, all the Narnia films, all the Twilight films, theDark Knight, the Constant Gardner, The Bourne Ultimatum,Burn After Reading, Shakespeare in Love, Fantastic Mr Fox,Billy Elliot, James Bond, Robin Hood, G.I.Jane, Notting Hill,Tron, The Mummy, The Golden Compass, Bee Movie, Troy,State of Play, The Road, The Last King of Scotland, Spygame,Elizabeth: The Golden Age, The Escapist, Captain America,Shrek, Hugo Cabret, Kung Fu Panda and the Lord of the Rings,Prometheus, the Hobbit, Skyfall, The Great Gatsby, to name just a few!!
He was the late Leonard Bernstein's preferred percussionist in London and featured as a soloist on the last night of the Proms in 1996 in a concerto for saxophone and drum kit by Sir Harrison Birtwhistle.
Paul also helped Rick Smith with the drum arrangement for The London Olympic 2012 opening, writing Dame Evelyn Glennie's part and together with Rick, devised how to train the 1000 drummers that stole the show on that ceremony! Video: Paul Clarvis in workshops and concerts & jams… on previous Sligo visits
SELECTED DISCOGRAPHY: 
Four In Perspective w/ Kenny Wheeler, Fred Hersch, Norma Winstone.
Gordon Beck "Once is never enough" w/ Stan Sulzmann,Chris Laurence
Victoria Mullova "Through the Looking Glass"
John Williams "The Magic Box"
Moondog "Big Band"
Harrison Birtwhistle "PANIC"
London Symphony Orchestra "Rite of Spring"
Mick Jagger "Goddess in the Doorway"
Andy Sheppard "Learning to Wave" w/Chris Laurence, John Parricelli, Steve Lodder.
"Dancing Man and Woman" same plus Steve Swallow.
Richard Thompson "Industry"
Mark Anthony Turnage "GREEK"
John Adams "Chamber Symphony"
"For All the Saints" Pauls trio w/ Stan Sulzmann and Tony Hymas.
Orquestra Mahatma "A young Persons Guide" Pauls trio w/Stuart Hall, Thad Kelly.
"The Nightingale of a Thousand Joys" with the Solid Strings.
Paul Clarvis with various "Global Heartbeat 1,2,3"
Paul Clarvis,Tom Garrad-Cole "Shadow Soul"
Paul Clarvis "Drumming"
Henry Lowther "Still Waters" w/Julian Arguelles, Dave Green and Pete Saberton
"Bubbling Under" w/Tony Hymas, Sonia Slany, Stan Sulzmann.
Stan Sulzmann Big Band "Birthdays, Birthdays"
Sam Rivers-Tony Hymas "Eight Day Journal" w/Sylvain Kassap, Noel
Akchote, Chris Laurence.
John Harle "Terror and Magnificence" and "Silencium"
Sonia Slany "Meeting Electra"
Martin Speake "Fever Pitch" w/Chris Batchelor,Dawson Miller,Oren
Marshall,Dave Hassell,Stuart Hall
Nick Weldon "Lavenders Blue" w/ Andy Cleyndert
"Live at the Albert" w/ Andy Cleyndert
John Law "The Onliest"
Christine Tobin "House of Women"
Chris Batchelor-Steve Buckley "Life as we know it " website