SLIGO JAZZ PROJECT 2017 will take place 25-30 July 2017… more details soon!
UPCOMING GIGS:
THURSDAY 17 November SPECIAL GUEST ALERT! John Moriarty, guitar, will join Ciaran Wilde, Patrick Gilbert and Eddie Lee at Hargadons.
ADRIEN MOIGNARD TRIO (France) with Special Guest Fintan Gilligan, Sat 19 Oct -Venue: Tricky's McGarrigles doors 8pm adm €10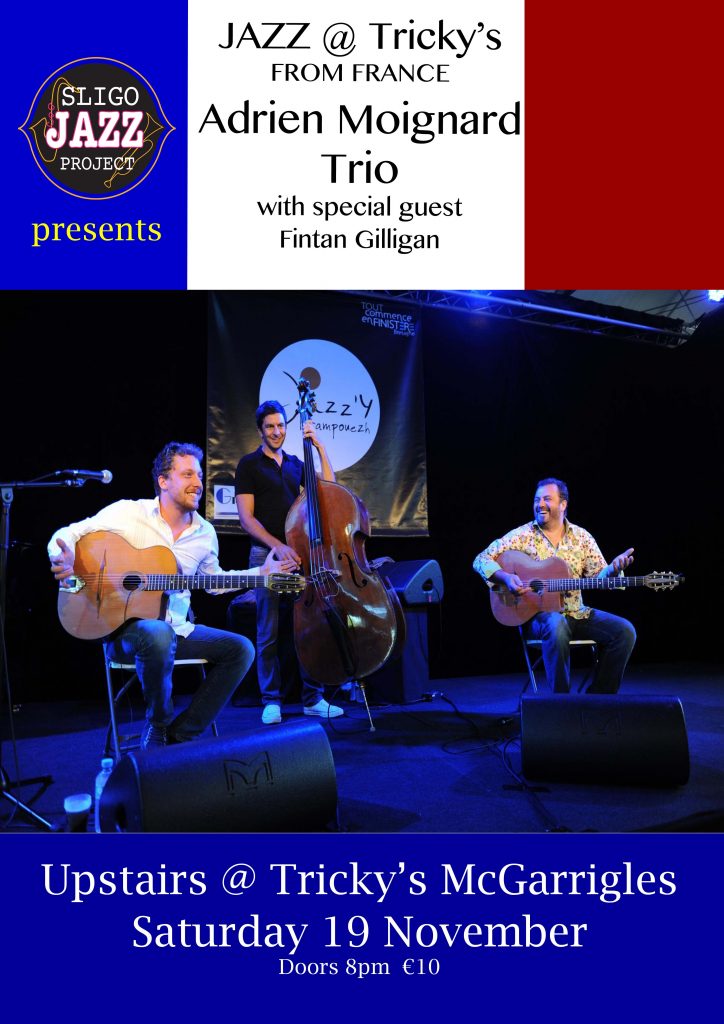 RESIDENCIES
Thursdays in Hargadons 9:30pm with Eddie Lee 3 featuring Ciaran Wilde & Patrick Gilbert ADM FREE
The Jazz Ladds 6pm every Friday in The Glasshouse
SLIGO JAZZ FESTIVAL 19-24 July was amazing! Check our Facebook page for updates and videos!


"What a delightful, colourful week, full of character, classless, ageless, bounding with joy and spirit and good humour….connecting, encouraging self-expression, interaction… opening doors that maybe some thought would forever remain closed, and others didn't even know were shut tight"… MIKE WALKER, SJP GUITAR TUTOR 2015 & 2016

WE NEED YOU!  As you may have heard, we need your support this year more than ever. YOU can become a friend or patron of SJP.  If you are interested click here! Press release Jan 5 2016

Sign up for Summer School updates
"You can have the faculty giving you masterclasses in the morning, eating lunch with you, go to their concerts, they play with you in the jam sessions, so its really inclusive, and its just a very feelgood vibe. Come to Sligo Jazz, its worth whatever it takes to get here"… Noah Fishman (Maine, USA), participant 2010 and 2013.
DONATE TO SLIGO JAZZ PROJECT
Help us create inclusive, educational, inspirational events for musicians of all ages and backgrounds!
Donate here via this paypal link:
"I am still more and more aware of the true purpose of the music and the people who play it: to heal and unite the planet" – Kenny Werner – SJP Faculty, 2013