Paul Clarvis brings his unique style of musicianship to many genres and as one of the UK's most requested session musicians. His playing can be heard on literally hundreds of films. Moreover, the list of artists he has worked with is a veritable 'who's who' in the music world – from Wynton Marsalis, Mick Jagger, Nina Simone, Stevie Wonder, Steve Swallow, Harrison Birtwhistle, Sir John Dankworth to Paul McCartney, John Taylor and Moondog, Gordon Beck, Brian Ferry, Elton John. He has recorded with Marc Ribot; Sam Rivers; Richard Thompson; The Orb, John Adams; Michael Nyman; Loreena McKennitt; Mark Anthony Turnage and Michel Legrand as well as his own band Orquestra Mahatma and Pigfoot.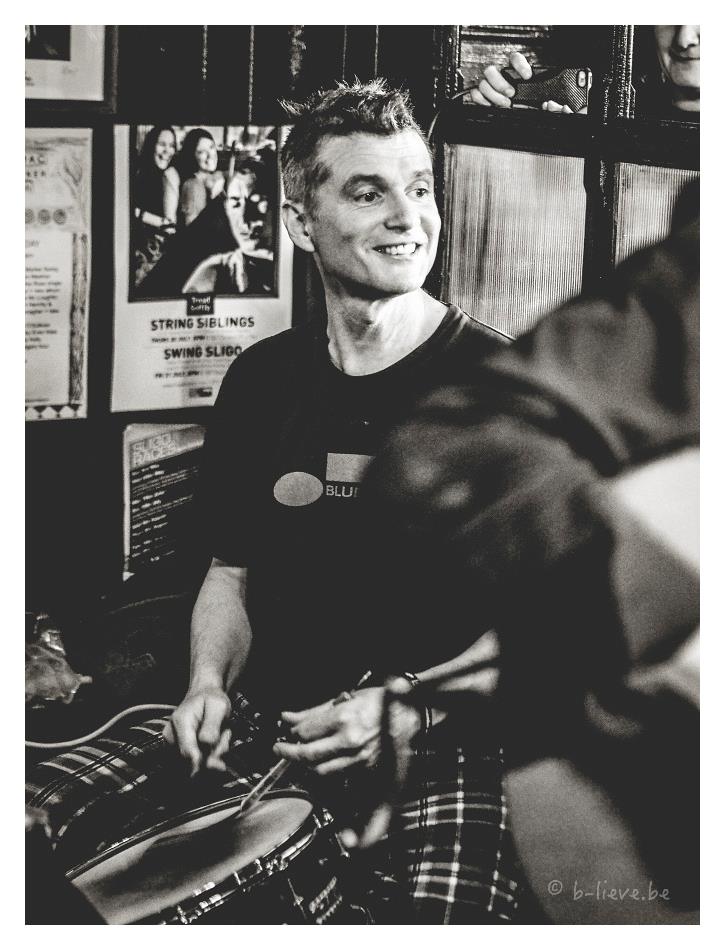 Movies which feature Paul's playing are Star Wars, all the Harry Potter films, all the Narnia films, all the Twilight films, theDark Knight, the Constant Gardner, The Bourne Ultimatum,Burn After Reading, Shakespeare in Love, Fantastic Mr Fox,Billy Elliot, James Bond, Robin Hood, G.I.Jane, Notting Hill,Tron, The Mummy, The Golden Compass, Bee Movie, Troy,State of Play, The Road, The Last King of Scotland, Spygame,Elizabeth: The Golden Age, The Escapist, Captain America,Shrek, Hugo Cabret, Kung Fu Panda and the Lord of the Rings,Prometheus, the Hobbit, Skyfall, The Great Gatsby, to name just a few!!
He was the late Leonard Bernstein's preferred percussionist in London and featured as a soloist on the last night of the Proms in 1996 in a concerto for saxophone and drum kit by Sir Harrison Birtwhistle.
Paul also helped Rick Smith with the drum arrangement for The London Olympic 2012 opening, writing Dame Evelyn Glennie's part and together with Rick, devised how to train the 1000 drummers that stole the show on that ceremony!
Video: Paul Clarvis in workshops and concerts & jams… on previous Sligo visits
SELECTED DISCOGRAPHY: 
Four In Perspective w/ Kenny Wheeler, Fred Hersch, Norma Winstone.
Gordon Beck "Once is never enough" w/ Stan Sulzmann,Chris Laurence
Victoria Mullova "Through the Looking Glass"
John Williams "The Magic Box"
Moondog "Big Band"
Harrison Birtwhistle "PANIC"
London Symphony Orchestra "Rite of Spring"
Mick Jagger "Goddess in the Doorway"
Andy Sheppard "Learning to Wave" w/Chris Laurence, John Parricelli, Steve Lodder.
"Dancing Man and Woman" same plus Steve Swallow.
Richard Thompson "Industry"
Mark Anthony Turnage "GREEK"
John Adams "Chamber Symphony"
"For All the Saints" Pauls trio w/ Stan Sulzmann and Tony Hymas.
Orquestra Mahatma "A young Persons Guide" Pauls trio w/Stuart Hall, Thad Kelly.
"The Nightingale of a Thousand Joys" with the Solid Strings.
Paul Clarvis with various "Global Heartbeat 1,2,3"
Paul Clarvis,Tom Garrad-Cole "Shadow Soul"
Paul Clarvis "Drumming"
Henry Lowther "Still Waters" w/Julian Arguelles, Dave Green and Pete Saberton
"Bubbling Under" w/Tony Hymas, Sonia Slany, Stan Sulzmann.
Stan Sulzmann Big Band "Birthdays, Birthdays"
Sam Rivers-Tony Hymas "Eight Day Journal" w/Sylvain Kassap, Noel
Akchote, Chris Laurence.
John Harle "Terror and Magnificence" and "Silencium"
Sonia Slany "Meeting Electra"
Martin Speake "Fever Pitch" w/Chris Batchelor,Dawson Miller,Oren
Marshall,Dave Hassell,Stuart Hall
Nick Weldon "Lavenders Blue" w/ Andy Cleyndert
"Live at the Albert" w/ Andy Cleyndert
John Law "The Onliest"
Christine Tobin "House of Women"
Chris Batchelor-Steve Buckley "Life as we know it "