CLICK ON LINKS FOR ONLINE ARTICLES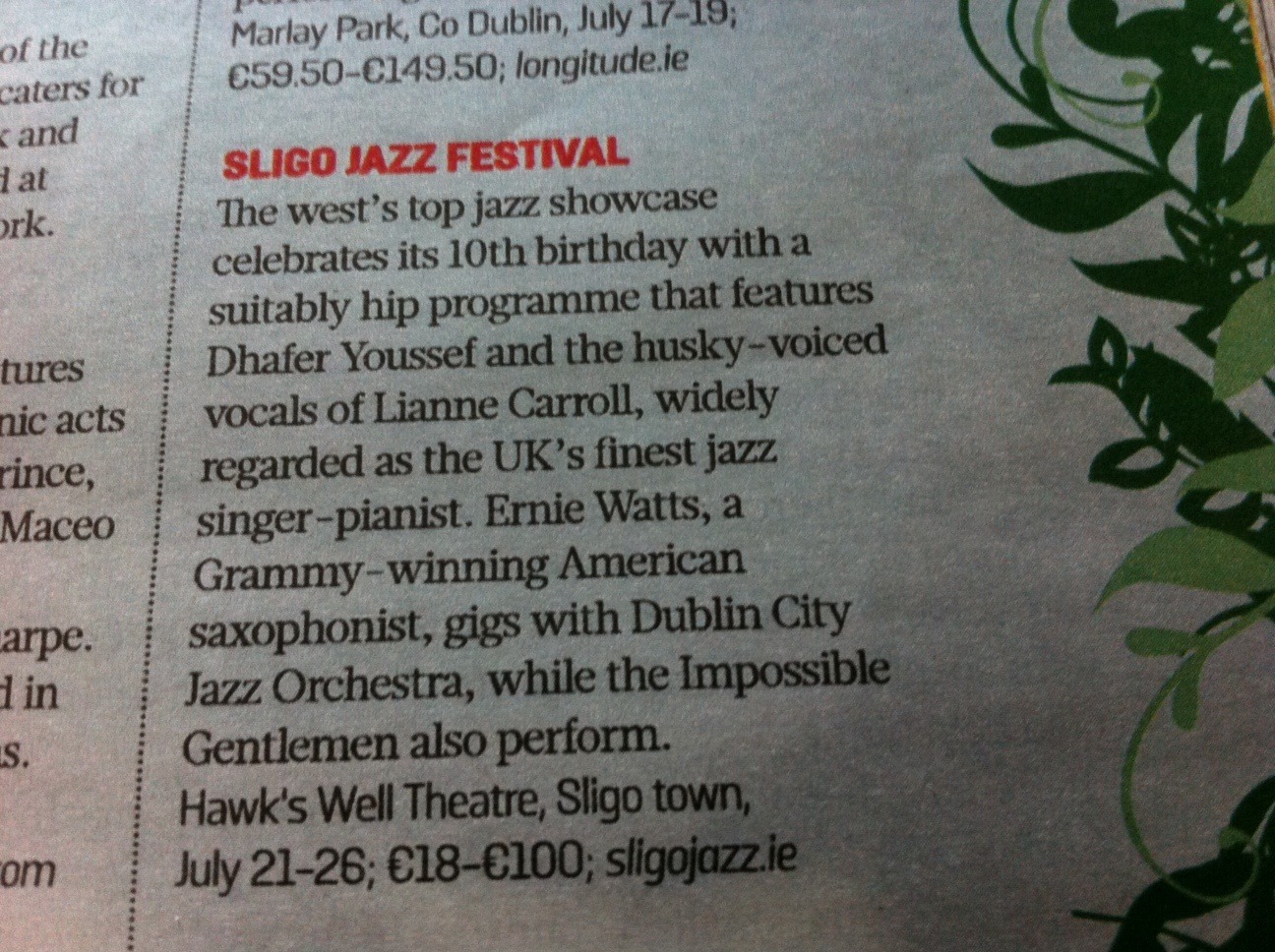 Limerick Post, August 2015 – Chuck Rainey/DeLorean Suite
Irish Times July 17 – Sligo Jazz Project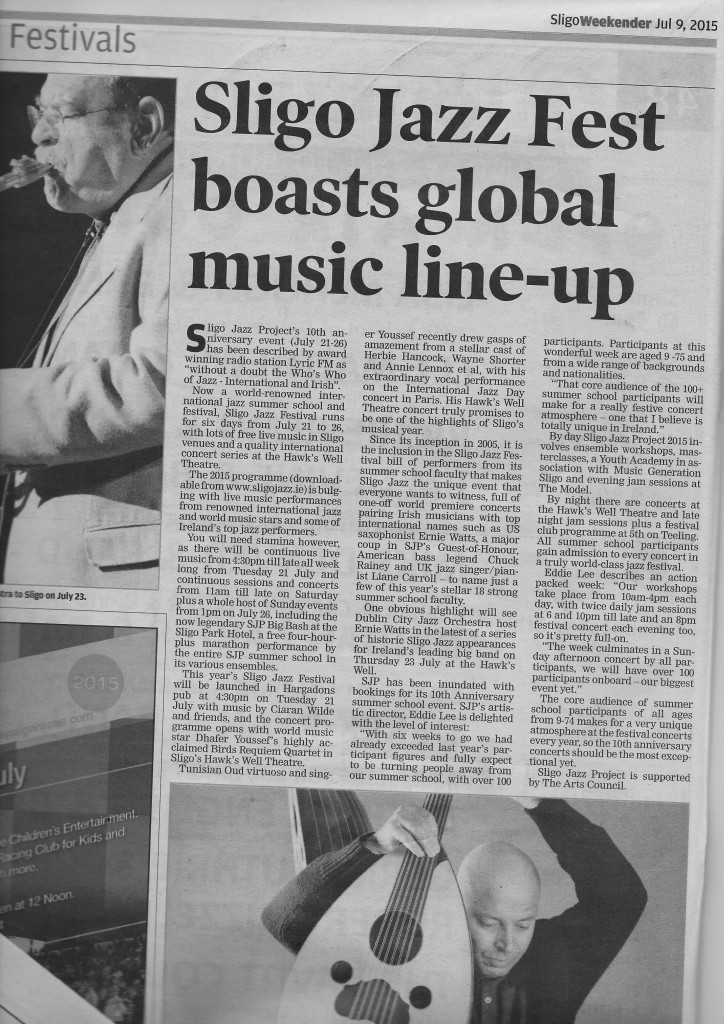 Sligo Weekender July 9
SLIGO CHAMPION JULY 9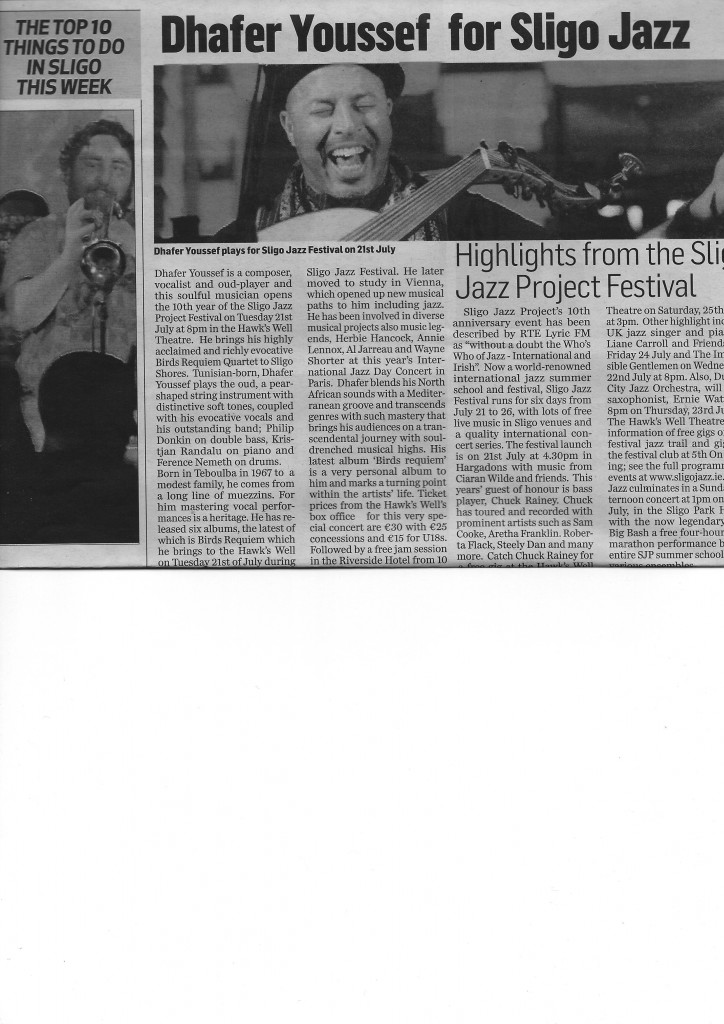 Irish Times June 19 2015, The TICKET Festival Guide
MUSIC: SLIGO JAZZ PROJECT
Sligo, July 21st-26th, sligojazz.ie
Sligo Jazz turns 10 with a cracking line-up of maestros, virtuosos and top players. These include highly regarded bass player Chuck Rainey, Tunisian oud kingpin Dhafer Youssef, sax legend Ernie Watts, Liane Carroll, supergroup The Impossible Gentlemen and the Dublin City Jazz Orchestra. Expect performances, masterclasses and workshops all week.
SLIGO JAZZ FESTIVAL Preview June 2015 on wildatlanticway.com
JAZZWISE MAGAZINE, MAY 2015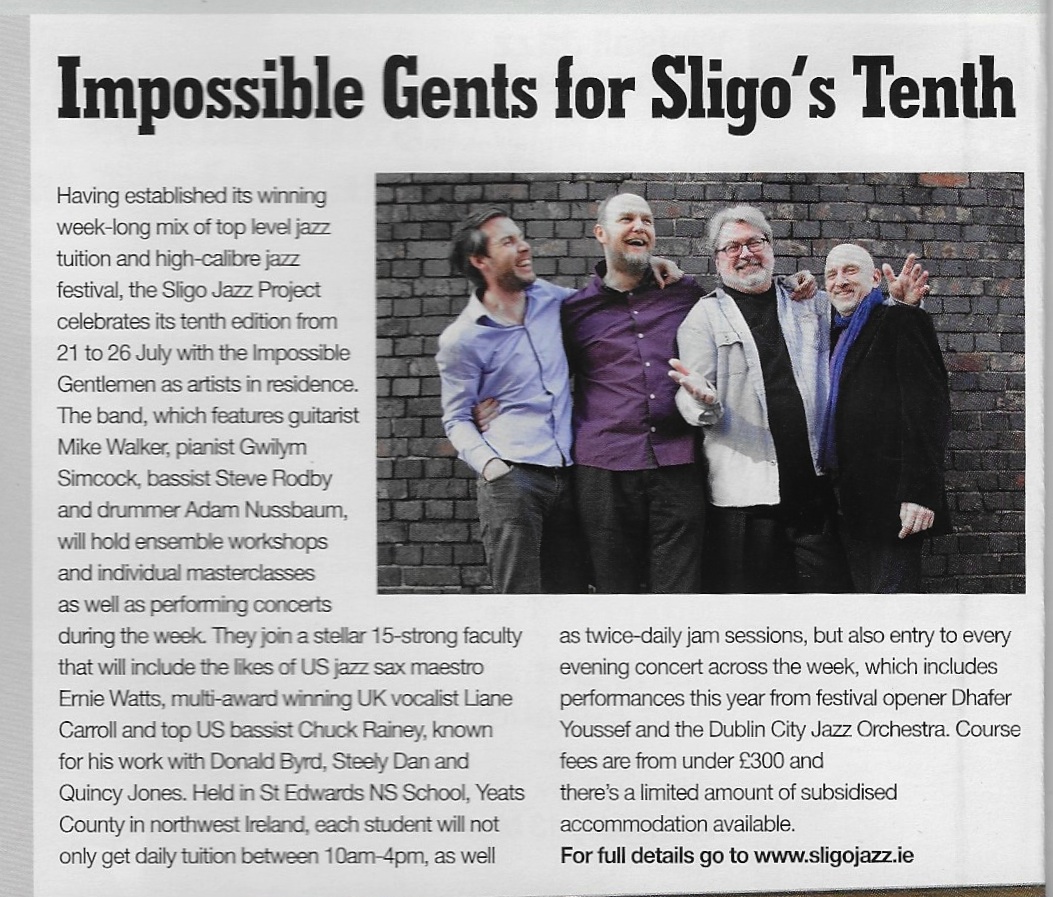 SUNDAY TIMES SUMMER FESTIVAL GUIDE APRIL 19 2015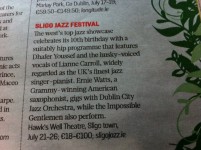 Spike Sligo: Pigfoot
Fifth on Teeling, Sligo, 11.30pm, €10 – also Saturday & Sunday
spikesligo.com
A festival dedicated to the memory of comedic genius and one-time jazz musician Spike Milligan would not be complete without a musical element. The Sligo Jazz Project have put together an excellent late-night festival club that kicks off tonight with a first Irish appearance by the suitably zany Pigfoot, whose trumpeter Chris Batchelor, tubist Oren Marshall, pianist Liam Noble and drummer Paul Clarvis refract Milligan's beloved 'trad' jazz through a decidedly contemporary lens.
JAZZ
Iiro Rantala
The Model, Sligo Also Hugh Lane Gallery, Dublin on Sunday
Finnish pianist Iiro Rantala was the creative force behind the groundbreaking Trio Töykeät but since 2008 he's been going it alone, defying the genre-police with his own classical-meets-jazz compositions. Fleet of finger and gleeful of intent, with a wide conception of what improvised piano can be, Rantala is the sort of player that makes every jaw in the room drop to the floor.
2014:
London Jazz News Interview with Eddie Lee by Sarah Chaplin, Aug 2014

Sunday Independent Alan Broadbent Review July 27 2014
Sunday Independent Published 27/07/2014
It ain't what you play, it's the way that you play it
Jazz
Grainne Farren
GRIPPING CONCERT: Alan Broadbent's playing held the audience riveted
The Hawk's Well Theatre, Sligo, was the setting for Alan Broadbent's concert last Wednesday night. The New Zealand-American pianist, principal piano tutor at this year's Sligo Jazz Project summer school, played the first half entirely solo.
It was a perfect illustration of the old saying "it ain't what you play, it's the way that you play it". Even well-worn standards like Softly as in a Morning Sunrise were utterly transformed, sounding fresh and new. Broadbent paid tribute to Miles Davis with a lyrical Blue in Green, reworked Charlie Parker's My Little Suede Shoes, did a crisp and springy version of the Sonny Rollins classic Oleo. His touch, his use of dynamics, his contrasting moods and tempos, all held the audience riveted. The remarkable thing was not only the richness of his ideas but the conciseness with which he expressed them. He said more in a few minutes than some musicians get around to in half an hour.
In the second half, the pianist played the more modest role of accompanist, providing supportive backing for singer Judy Niemack. An interesting selection of songs, including vocal versions of tunes by Bill Evans, Tadd Dameron and Thelonious Monk, set off the purity and flexibility of her voice. Her style was polished, her timing and diction impeccable, yet there was something missing: the vital ingredient of emotion. This lack of feeling made the numbers sound like clever vocal exercises rather than songs. Alan Broadbent played one last piano solo, a classically-tinged Lonely Woman, included as a tribute to bass-player Charlie Haden, who died recently.
Today is the last day of the Sligo Festival, featuring the summer school students in the SJP Big Bash, and a Wrap Party with African music by Tropicana Musica.
Back in Dublin, the Richie Buckley Quintet plays in JJ Smyth's this afternoon, and the Phil Ware Trio can be heard in the same venue on Thursday night.
Sunday Independent
– See more at: http://www.independent.ie/entertainment/it-aint-what-you-play-its-the-way-that-you-play-it-30459550.html#sthash.Bw0OZcgz.dpuf
Sligo Champion Festival Preview, July 2014
2013 Press
Ian Patterson's Day by Day Diary of SJP 2013 on allaboutjazz.com
Irish Times July 18 2013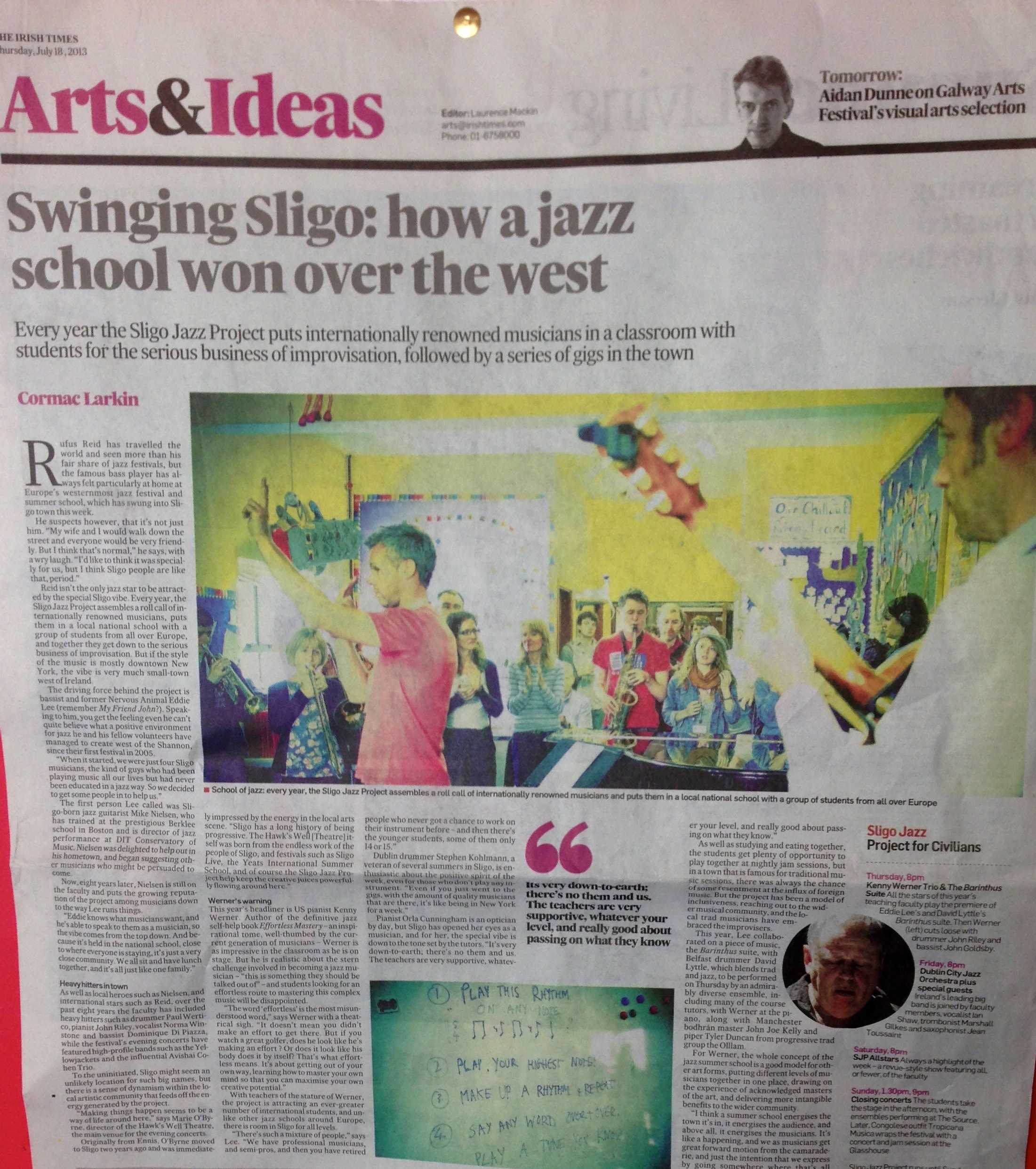 Sunday Independent Year Highlights – Christmas 2012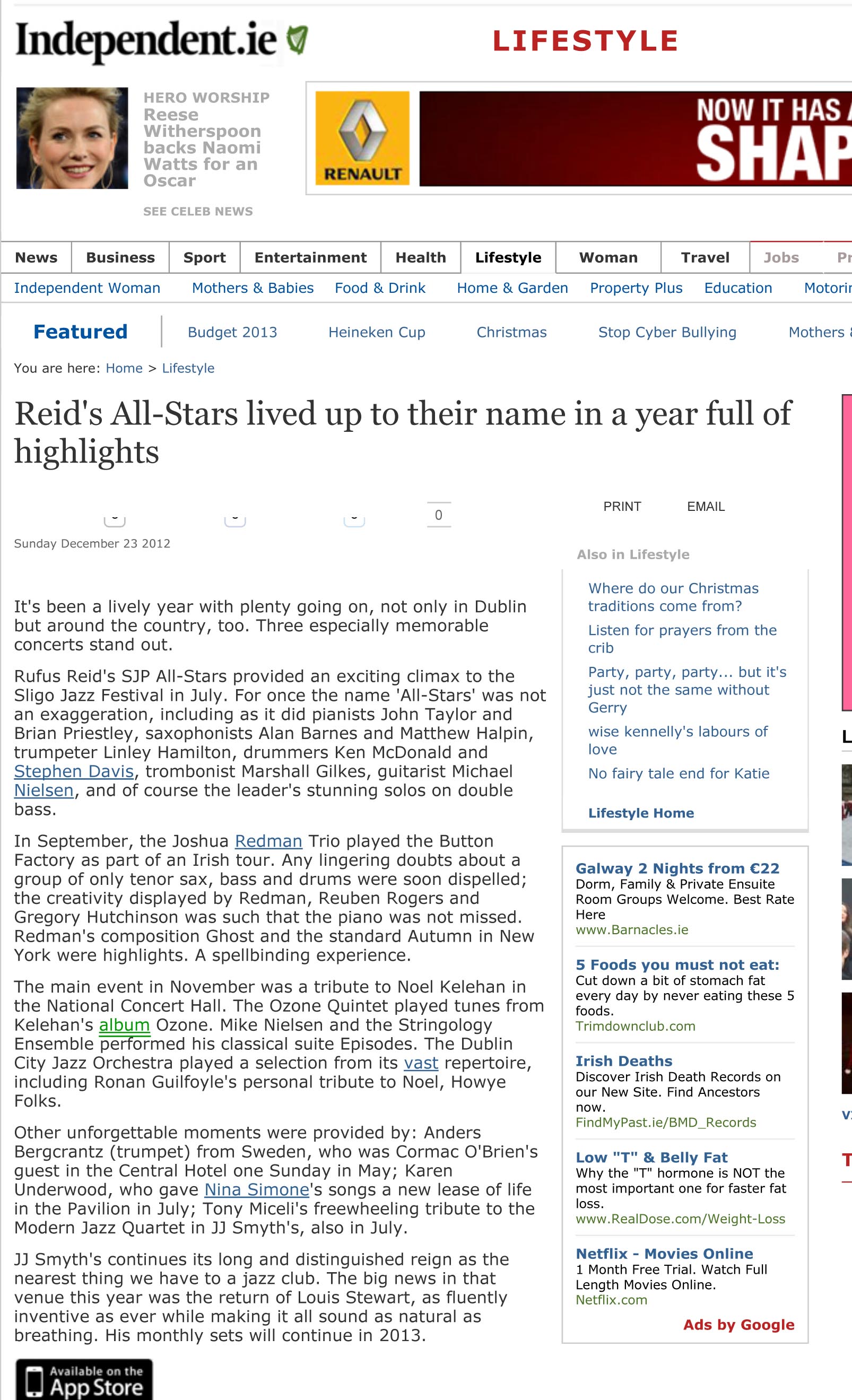 Pursued by a Bear » How's this for a jazz trio
Sunday Independent July 31 2011