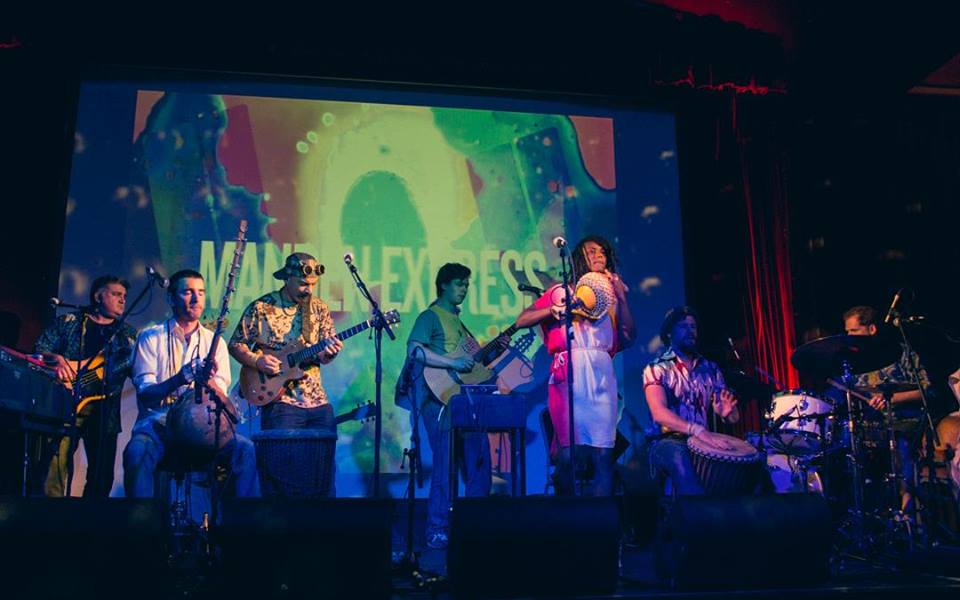 Manden Express were like a cross between Oumou Sangaré and drummer Steve Reid's Daxaar ensemble. Rhythmic mantras guided the pulsating set closer "Safo Safo," which ebbed and flowed to allow guitar, kamele ngoni, percussion and drums to really stretch out.   AllAboutJazz.com
Manden Express is a thrillingly explosive Dublin-based international band, fusing traditional and contemporary styles of West African music from the Mande Empire of what is now known as Mali, alongside infectious Afrobeat rhyhms. Inspired by village, Wassalou (Oumou Sangare) styles and the explosion of new musical influences that merged with African music in the 1960′s it blends Kamele n'goni harp, Kora, djembe, and drums with Electric bass and guitar to produce stomping grooves and hypnotic time patterns.
The septet is the only group of it's type in Ireland, charged with rhythmic energy and weaving together a wealth of experience in African music and other styles like flamenco, jazz, funk and rock, with band members hailing from Guinea, Spain, Peru and Ireland. Manden Express have appeared at Bray Jazz Festival, Down With Jazz Festival, The Big Bang Festival, Electric Picnic, Body and Soul Festival and Africa Day amongst others and are a regular fixture on the Dublin scene.
Nene Mansare – Vocals
Paul McElhatton – Kamele n'goni harp
Orlando Molina – Guitar
Tommy Moore – Bass
Jose Minguez – Guitar
Brian Lynch – Djembe
Cote Calmet – Drums