John Taylor was born in Manchester and first came to the attention of the jazz audience in the early 1970s. He was working as leader and as sideman with such important bands like Azimuth, Peter Erskine Trio and collaborating with musicians like Jan Garbarek, Lee Konitz, Mark Feldman, Marc Johnson, Joey Baron, etc.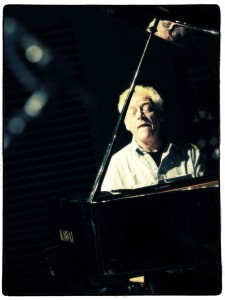 In the last ten years John Taylor started to work intensively on two main projects. His present Trio, with Palle Danielsson and Martin France, who has recorded two Cds with CAMJazz, Angel of the Presence and Whirlpool. A new Quartet project featuring the Trio and the saxophone player Julian Argüelles has recently recorded a new CD: Requiem for a Dreamer. John was also focusing on piano solo with several concerts in Europe and Canada and two other recent recordings, Songs and Variations (2005) and Phases (2009) and before the end of the year he is going to record a third new piano solo album. John is also currently playing duets and quartets with Kenny Wheeler.
In 2004 John started a new duo collaboration with the Italian singer Diana Torto. They also collaborated in a important project with John's new arrangements for big band, commissioned by the WDR big band. John, Diana and the bass player Anders Jormin released a CD: Triangoli and they are going to record in March 2012 a second CD together.
John has been a Lecturer in jazz at York University since 2005.