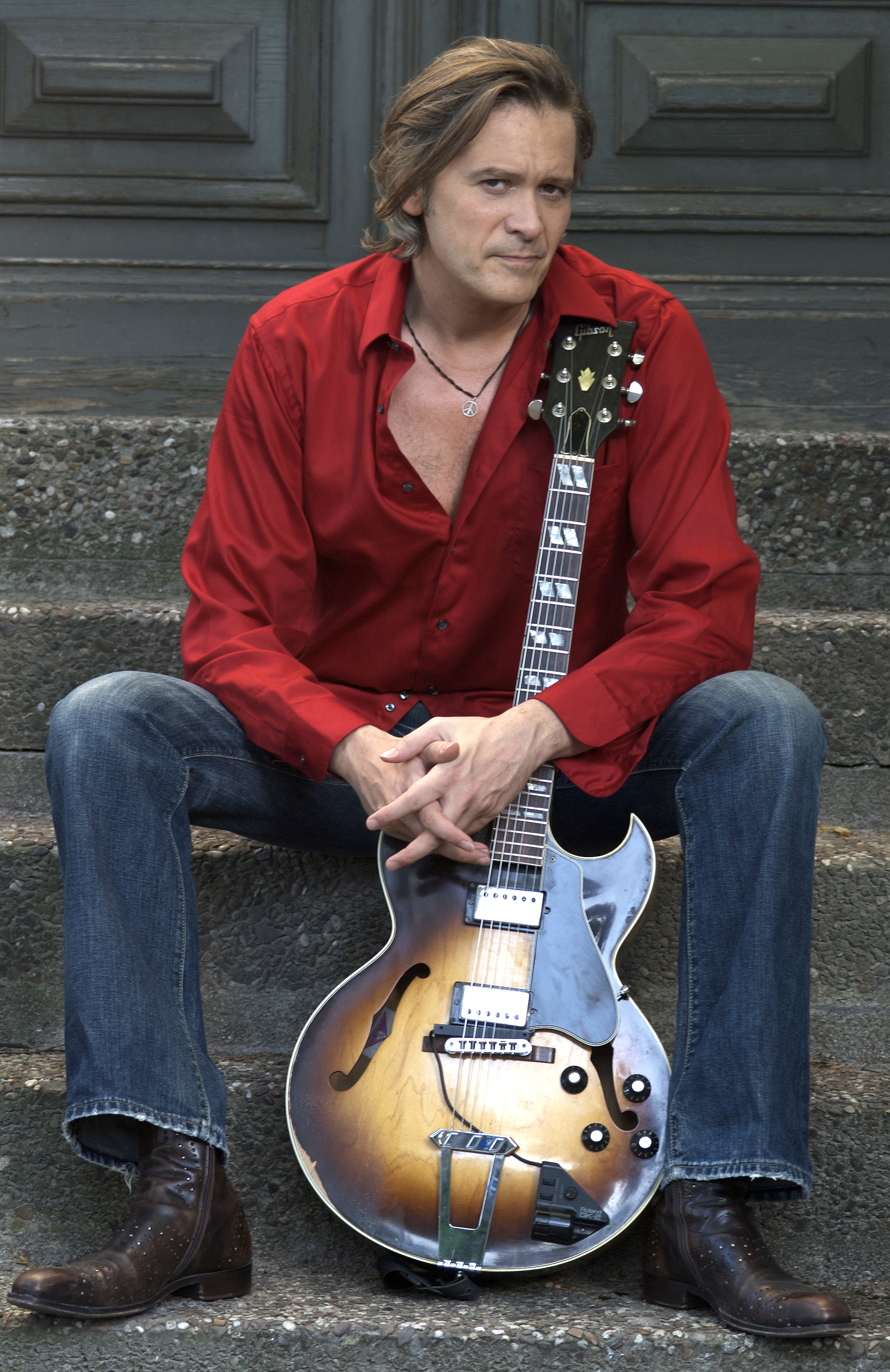 Belgian Jazz guitarist Jeanfrançois Prins was born in Brussels and currently resides in Berlin. He has spent most of his adult life as a professional musician, composer, arranger and producer; performing, recording and collaborating with many of today's Jazz giants. He has been teaching private instrument lessons and classes in Berlin's Music Universities, where he lead the Jazz Guitar Departments for over a decade, and gives workshops and master-classes internationally, communicating with enthusiasm his passion for this expansive music to the next generations of players.
Jeanfrançois has several current projects as a leader. His "Colliding Universes" is a 6tet which features 2 tenor saxophones, a fluegelhorn, bass and drums. "All Strings Attached" features his trio plus a classical string quartet, performing his original compositions and arrangements. "Blade Runner" features his arrangements and compositions in the thrilling atmosphere of a "film noir" of the 21st century, with cello and a groovy quartet with rhodes and electronics. "Rio de Jazzeiro" is his love declaration to Brazilian music. He also co-leads a 4tet with american saxophonist extraordinaire Andy Middleton, as well as a Belgian All Stars quintet "Tribute to Miles Davis" with trumpeter Richard Rousselet.His sixth CD as a leader "El Gaucho", featuring his trio with Joris Teepe on bass and Victor Lewis on drums, plus guest Rich Perry on tenor saxophone was released internationally on Challenge Records in 2012.As a guitarist, Jeanfrançois Prins has performed as a leader and/or as a sideman with such artists as Toots Thielemans, Lee Konitz, Judy Niemack, Kenny Wheeler, Bud Shank, Lew Tabackin, Gary Bartz, Jaleel Shaw, Gary Foster, Gary Bartz, John Ruocco, Andy Middleton, Bill Evans, Ulli Jünemann, Julian Priester, Jiggs Whigham, Randy Brecker, Gerard Presencer, Uli Beckerhoff, Tim Hagans, Till Brönner, Jim Mc Neely, Kirk Lightsey, Dan Haerle, Fred Hersch, Kenny Werner, Michel Herr, Walter Norris, Mal Waldron, Bruce Barth, Stephen Scott, Danny Grissett, Kelvin Sholar, Dan Tepfer, Jasper Soffers, Mike Richmond, Eddie Gomez, Putter Smith, Jay Anderson, Scott Colley, Rufus Reid, Hein Van de Geyn, Ricardo del Fra, John Goldsby, Ratzo Harris, Cameron Brown, Bart Denolf, Bruno Castellucci, Steve Davis, Adam Nussbaum, Joe La Barbera, Jerry Granelli, Billy Hart, Victor Lewis, John Betsch, Al "Tootie" Heath, Eric Vaughn, Gene Jackson, John Riley, Café, Luis Ribeiro, Pandit Sankha Chatterjee, Quincy Jones, Peter Herbolzheimer, Jay Clayton, Sheila Jordan, Darmon Meader, Theo Bleckmann, Janice Borla, Sangeeta Bandyopadhyay, Erwin Schrott, Beethova Obas, Lisa Werlinder…

Jeanfrançois has released 6 CDs as a leader. One can hear him as a guest soloist or sideman on more than 50 other CDs.
"A real voice on the guitar with a warmth that's all his own." JOE LOVANO
 "Jeanfrançois Prins plays directly from the heart…" FRED HERSCH
 "There is a great Jazz Guitar tradition in Belgium, represented successively by Django Reinhardt, René Thomas, Toots Thielemans, Philip Catherine, and now by Jeanfrançois Prins." KNACK – DE MORGEN