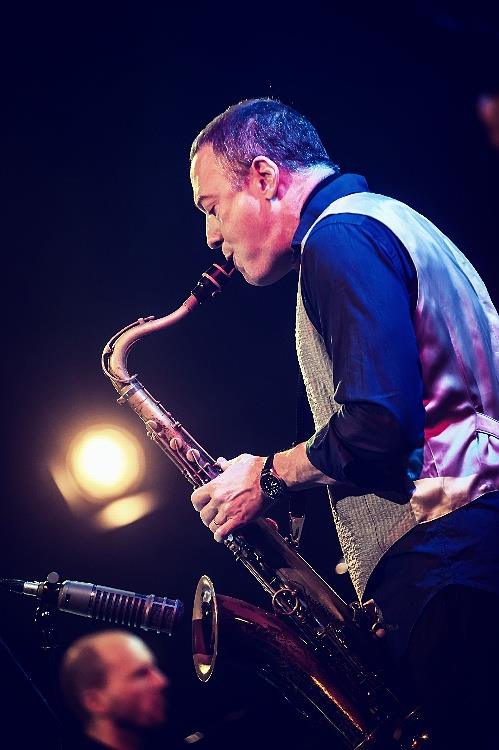 "Andy Middleton represents the best of a new generation of jazz musicians."  DAVID LIEBMAN
"Here is the sax player with the courage to pursue his own voice. Here is improvising and writing in its best form – really pretty amazing!"  MICHAEL BRECKER
"Totally contemporary playing and writing with a real sense of the jazz tradition. Excellent!" JOHN ABERCROMBIE
"Andy Middleton is one of the strongest tenor and soprano saxophonists on the scene. Check him out!" RANDY BRECKER
ANDY MIDDLETON is one of the very top-tier saxophonists living in Europe today. Imaginative and adventurous virtuosity spans an incredibly wide breadth of expression — from fierce power to tender warmth, lyrical yet rhythmically driving, masterful and inspired. His compositions, harmonically modern and melodic yet clearly rooted in the jazz tradition, provide the perfect setting. This unique voice as a player, arranger and composer has led jazz icons such as Ralph Towner, Kenny Wheeler and David Holland to collaborate with him. He has also performed and recorded with a long list of artists including Billy Hart, Maria Schneider, Richie Beirach, Renee Rosnes, Randy Brecker, Bill Evans, Lionel Hampton, Bob Mintzer, Joey Calderazzo, John Abercrombie, Scott Colley and Adam Nussbaum.
Born in Harrisburg, PA, Andy received his masters degree in composition at the University of Miami. After nearly 20 years in the New York jazz scene, he relocated to Vienna, Austria in 2006, where he is Professor of Jazz Composition, Jazz Theory and Jazz Saxophone at the Conservatory of the City of Vienna.
SELECTED DISCOGRAPHY AS A LEADER
— "Three Hearts, Three Minds", Alessa Records, ALR 1018, 2011
— "Between Worlds", Prova Records, PR 1009-CD14, 2010
— "The European Quartet Live", Qrious Music, QRM 100-2, 2007
— "Reinventing the World", Intuition Music & Media 3310-2, 2003
featuring Kenny Wheeler
— "Nomad's Notebook", Intuition Music & Media 3264-2, 1999
featuring Ralph Towner and Dave Holland
— "Terra Infirma", Owl Records/EMI France 080-832998-2, 1995
featuring Renee Rosnes
— "Acid Rain", Owl/Time Line 3819082, 1991
featuring Joey Calderazzo
PRESS
"… an ace saxophonist, a generously skilled arranger and a socially dedicated artist."
Timeout New York 
"Andy Middleton himself is in a class of his own. It is a must to hear, see and experience how
he constructs, searches and propels his solos. I was reminded the whole time of a Wayne
Shorter concert – the same energy, uncompromising playing and searching and bringing to
light of the deepest and best in oneself."
www.draaiomjeoren.com, Spring 2011 
"Middleton is an individual who manages simultaneously to think, feel, produce, teach,
question, evolve, search and to be aware of it when he finds the thing that he has been
searching for. While listening to Andy one realizes how jazz can reach a universal level as an
art form, without getting lost in dull relationships with popular and traditional music. And
something else too – the necessity of the soprano…Unbelievable tone and mastery!"
JAZZ, Spring 2011, No. 62 (Turkey) 
"One of the best things about being a record reviewer is when you come across a CD by
someone you've never heard of, which turns out to be so enjoyable that it could even qualify
for your year's best list. Thoroughly recommended."
JazzwiseMagazine 
"The European Quartet Live is an excellent album. The simplicity of that statement matches
the music on the recording. What makes all of the numbers stand out is the wonderful work
of Middleton, who is virtuosic in his tone, speed and concepts. His standmates are nearly as
good, but he is the real star." Pittsburgh Tribune-Review 
"…. his playing is consummate. Middleton's lines are thoughtful and symmetrical. There's
pattern to his improvisation, and grace, so that following his solos is less likely to occasion
surprise than satisfaction. This is a solid outing by four master musicians." Cadence
"There is one soloist who truly stands apart from the rest of the crowd, and that is Andy
Middleton." Saxophone Journal, USA 
"Serendipitous, how a musician continues to grow. The European Quartet Live presents an
Andy Middleton in top form, playing with his superb accompanists through a brilliant set
balanced between lyrical melodic serenity and exciting freestyle excursions that is a true joy for a jazz fan. Excellent." Amazon.de (Germany) 
"Andy Middleton is a modern jazz saxophonist who has warm and original tones on tenor and soprano. Although the music may be relaxed, plenty of sparks fly from Middleton's tenor (which sometimes hints a little at Joe Lovano or Michael Brecker) and his fluent soprano." Allmusic.com 
"Middleton shows signs of being more than "just any" improviser. Middleton … writes in a
broadly euphonious harmonic language, with a natural tunefulness that engages the ear with exotic airs, but never strays too far from home." Jazz Times (USA) 
"Andy Middleton affirms himself not only as a saxophone player but as a first class composer and arranger." JAZZ Magazine, (France) 
"… an accomplished composer as well as a smart post-bop tenor saxophonist."
The New York Times 
"A saxophonist with patient poise on the slow ones and fierce resolve on the fast
ones." The Village Voice (New York) 
"… solos that demonstrate the absolute mastery of his saxophones, in emotional and
technical terms. Every note hits the mark, but also reveals the notable feature of
leadership, that nothing is done halfway." All About Jazz Italy
"A musician's musician, just like it says in books. The American living in Vienna spins
fascinating webs of improvisation with long, drawn-out and intense melodies on the
tenor saxophone that place him at the top of the international saxophone scene.
Great music." Jazzthing (Germany)
___________________________________________________________ 
SELECTED DISCOGRAPHY AS A SIDEMAN
– Klemens Marktl/Flip Philip Sextet – "Open Sea", ATS Records, 2010
– Ron van Stratum – "Swingin' in the Swamp", Mons Records, 2010
– Sparkle + Andy Middleton – "Playing Tricks", Zero Zero Jazz, 2010
– Maria Schneider Orchestra – "Concert in the Garden", ArtistShare, 2004
– The NewYorkestra – "Urban Soundscapes", Seabreeze Records, 2005
– The Fensters – "Jazz Music Vol. X", A Records, 1996
– The Fensters – "Jazz Music Vol. 1", Arta Records, 1992
– Lionel Hampton – "Cookin' in the Kitchen", Gladhamp Records, 1990
– Ron van Stratum – "Plain View", VIA Records, 1999
– Jens Wendelboe – "Energy Band, Vol. 2", Nopa Records, 1992
– Randy Bernsen – "Mo' Wasabi", Zebra/MCA Records, 1986 !
AWARDS
– First Prize, Best Soloist, Best Arranger – 13th Europ' Jazz Contest, Belgium (1991)
– Outstanding Jazz Soloist – Down Beat Magazine (1987) !
GRANTS
– Chamber Music America's New Works: Creation and Presentation Grant Program/
Doris Duke Jazz Ensembles Project (2004)
– National Endowment for the Arts Performance Grant (1996)
– Fund for US Artists at International Festivals (1992, 1993, 2003)
– Arts International (2005)
– New York Foundation for the Arts (NYFA) fiscal sponsorship (2006 – 2009)
– Brooklyn Arts Council performance grant (2006)