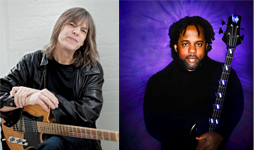 MIKE STERN / VICTOR WOOTEN BAND

Featuring B. FRANCESCHINI & D. WATSON
MIKE STERN guitar
BOB FRANCESCHINI sax
VICTOR WOOTEN electric bass / vocals
DERICO WATSON drums / vocals
Hawks Well Theatre Sligo, 16 July 2013  Doors 9pm, Band 9.30pm. €35 TICKETS available from 1 May 2013, 10am hawkswell.com or phone +353 71 9161518
Excitement abounds since Sligo Jazz Project's announcement of our 2013 headliners and festival openers Mike Stern/Victor Wooten Band. Stern, one of the world's most respected jazz-fusion guitarists, who has collaborated with many jazz greats including Miles Davis, Brecker Brothers and Esperanza Spalding, is joined for an exclusive Irish date for the first time by arguably the world's greatest electric bassist, Victor Wooten, at the Hawks Well Theatre on July 16. Since the news broke of Wooten's imminent visit, the excitement has been tangible, in the music community and general public all over Ireland and beyond.
Victor Wooten is the bassist with Bluegrass/Jazz Fusion supergroup Bela Fleck and the Flecktones, with whom he has won five Grammy awards, in a glittering career spanning over thirty years. Victor Wooten was voted one of the top ten bassists of all time by Rolling Stone magazine in 2011, and is widely renowned amongst the most innovative bassists in modern music history. He has been called "the Michael Jordan of the bass" and hailed as "one of the most fearless musicians on the planet".
A joint SJP/Hawk's Well Theatre promotion, this will undoubtedly be one of the musical highlights of 2013. Tickets for this exciting concert go on sale on 1st May at 10am. Of course if you enrol for Sligo Jazz Project's international summer school, you will gain admission to this and a plethora of festival concerts included in your summer school fee!