Dublin City Jazz Orchestra with special guests Ian Shaw, Marshall Gilkes and Jean Toussaint
Hawk's Well Theatre Friday July 19, 8pm.  Tickets €18/15, available from May 1.
One of SJP's highlights of 2011 was Ireland's premier big band, the DCJO with special guests from our stellar summer school faculty, Marshall Gilkes and John Riley. This year DCJO returns with a programme of music featuring the original compositions of US based Irish composer David O'Rourke, and no less than three guests from SJP's 2013 faculty: vocalist Ian Shaw, trombonist Marshall Gilkes and saxophonist Jean Toussaint.
There is nothing to beat the rhythmic drive and sheer power of a jazz big band. The Dublin City Jazz Orchestra brings this quality to its concerts with superb ensemble playing and its outstanding soloists from all four sections, reeds, trombones, trumpets and rhythm. All of the members of this 17 piece jazz orchestra are well known members of the Irish jazz scene and they bring to this orchestra all their well honed skills as they perform arrangements from the great International writers and Irish composers.
The members of this orchestra have played with Bobby Wellins, Tina May, James Williams, Georgie Fame, Guy Barker, Scott Hamilton, Jon Faddis, Brad Mehldau, Louis Stewart, Bobby Watson, Alan Barnes, Stacey Kent, Christine Tobin, Harry Allen, Roy Williams, Spike Robinson, Joe Temperley, George Masso, John Wadham, Mike Nielsen, Greg Osby, Claire Martin, John Taylor, Mihály Borbély, Julian Arguelles, Rick Peckham, Steve Arguelles, Florian Ross, Gilad Atzmon, Sean Carpio, Furio di Castri, Francesco Turrisi, Justin Carroll, Curtis Fuller, Benny Golson, Phil Woods, John Dankworth, Cleo Laine, Sid Lawrence Orchestra, 'Back to Basie' Big Band and the National Youth Jazz Orchestra of Great Britain, Van Morrison, Ronnie Drew, Shane McGowan, Dana, Johnny Logan, Amy Winehouse, Emer Mayock, Cora Venus Lunny, Sharon Shannon, The Commitments Band, The Waterboys, RTE Concert Orchestra, RTE National Symphony Orchestra, Irish Film Orchestra, Wexford Opera, Cyprus State Orchestra and the Royal Philharmonic Orchestra. Leader: Ciaran Wilde Musical Director: Brendan Doyle 
Ian Shaw has been described as one of the most distinctive, original and creative jazz singers on the scene, and is also a talented pianist and songwriter. Twice voted "Best Jazz Vocalist" at the BBC Jazz Awards and nominated this year for a JazzFM award, he has more than a dozen albums to his name. While his solo shows become ever more popular, he is much in demand as the featured soloist with big bands and orchestras both in the UK and internationally, alongside pairings with the likes of Guy Barker, Liane Carroll and Claire Martin and over the years has also worked with Quincy Jones, Abdullah Ibrahim, Cleo Laine, Kenny Wheeler and John Taylor.
Marshall Gilkes currently resides in Cologne, Germany where he is a member of the WDR Big Band.  Mr. Gilkes is a graduate of The Juilliard School as well as Interlochen Arts Academy. In addition to his work as a leader, Mr. Gilkes has performed as a member of the internationally acclaimed Richard Bona Band, Edmar Castañeda Trio, Maria Schneider Orchestra, and the David Berger Jazz Orchestra.  In addition he has performed with Billy Cobham, Dave Douglas, and the Village Vanguard Orchestra.  He has taught and presented master classes at institutions around the world including The Banff Center, Berklee College of Music, and on behalf of the Juilliard School.  In 2003 Mr. Gilkes was a finalist in the Thelonious Monk International Jazz Competition.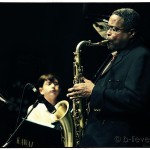 US tenor saxophonist Jean Toussaint joined Art Blakey's Jazz Messengers in 1982, beginning an inspired four-and-a-half years in one of the most important groups in the history of jazz. Since 1987, he has been based in London, and his performing credits include notables such as McCoy Tyner, Wynton Marsalis, Roy Ayers, Gary Bartz, Kenny Kirkland, Terence Blanchard, Max Roach, Cedar Walton, Horace Silver and Lionel Loueke. Jean had the saxophone post on Sligo Jazz Project in 2011 and we are delighted to welcome him back this year.
Note: This concert is affiliated to the Arts Council sponsored DCJO June 2013 tour "David O'Rourke – A Prophet In His Own Land", featuring the US based Irish guitarist/composer David O'Rourke. Although  David will not be here in person, his music will be featured.